18-Month Extension of Temporary Protected Status for Sudan
and Designation for South Sudan
(posted October 13, 2011)
The Department of Homeland Security has extended the Temporary Protected Status (TPS) designation for Sudan for 18 months, as well as designated the new Republic of South Sudan for TPS for 18 months. Both the extension and the new designation are effective Nov. 3, 2011, and will continue through May 2, 2013. Current TPS beneficiaries are also granted an automatic extension of the validity of employment authorization documents (EADs) issued under the last extension of Sudan TPS for an additional six months, through May 2, 2012. Any individual who has a valid TPS Sudan EAD is covered by this automatic extension, even though USCIS may ultimately register the individual under the South Sudan TPS designation and issue a new EAD reflecting his or her new nationality.
All affected individuals seeking to obtain or maintain their TPS must file their application package no later than April 10, 2012.

DV-Lottery 2013 Instructions Become Available
(posted September 14, 2011)
The annual diversity visa (DV) program makes visas available to persons meeting simple but strict eligibility requirements from countries with historically low rates of immigration to the United States. For fiscal year 2013, 50,000 diversity visas will be available. A computer-generated, random drawing chooses selectees for DVs. The visas are distributed among six geographic regions, and within each region, no single country may receive more than seven percent of the available DVs in any one year.
Nationals of countries who have sent more than 50,000 immigrants to the United States over the past five years are not eligible to apply for the Diversity Visa program. Changes in eligibility this year include that natives of South Sudan and Poland are now eligible for selection, while Bangladesh natives are now ineligible.
For DV-2013, natives of the following countries are not eligible to apply: Bangladesh, Brazil, Canada, China(mainland-born), Colombia, Domenican Republic, Ecuador, El Salvador, Guatemala, Haiti, India, Jamaica, Mexico, Pakistan, Peru, Philippines, South Korea, United Kingdom (except Northern Ireland) and its dependent territories, and Vietnam. Persons born in Hong Kong SAR, Macau SAR, and Taiwan are eligible to apply.
Entries for the DV-2013 DV program must be submitted electronically between noon, Eastern Daylight Time (EDT) GMT-4), Tuesday, October 4, 2011, and noon, Eastern Daylight Time (EDT) (GMT-4), Saturday, November 5, 2011. Paper entries will not be accepted. Applicants may access the electronic DV Entry Form (E-DV) at www.dvlottery.state.gov during the registration period. Please note that heavy demand may result in website delays. No entries will be accepted after noon, EDT, on November 5, 2011.

USCIS to Issue Combined EAD and Advance Parole
for Adjustment of Status Applicants
(posted February 18, 2011)
For those eligible to travel abroad while your Application to Register Permanent Residence or Adjust Status (Form I-485) is pending, USCIS will now issue the travel and employment authorization together for Adjustment applicants.
Previously, USCIS issued the Advance Parole Travel Document in paper form, separate from the employment authorization card. Now, when both the I-765 and I-131 applications are filed in support of the I-485 Application for Adjustment of STatus, USCIS will issue the Employment Authorization Document (EAD) with travel authorization included as a line of text on the card: "Serves as I-512 Advanced Parole" as shown below. This eliminates the need to carry around an extra document to prove travel authorization.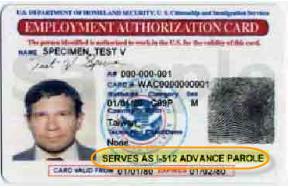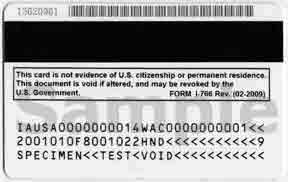 Baser Law presents at the ATAA Student Outreach Program at MSU
(posted March 29, 2010)

On March 20, 2010, the Assembly of Turkish American Associations (ATAA) held a student outreach event at Michigan State University. Under the leadership of Nurten Ural, Honorary Consul General and ATAA past president, and ATAA civic engagement director Yenal Kucuker, the event provided an invaluable opportunity for students to discuss issues regarding visa and immigration, political issues, business culture, and Turkish American community and organizations in an informal Q&A setting. Deniz M. Baser from Baser Law presented the section on immigration. Follow these links for more information in English and Turkish.

ESTA requirements now in effect for Visa Waiver Program travelers
(posted January 12, 2009)
(Source: U.S. Department of Homeland Security; Press Release, 1/12/2009)
As of today, the Electronic System for Travel Authorization (ESTA) to the United States is in effect for travelers to the United States under the Visa Waiver Program (VWP). This program, established by the U.S. Department of Homeland Security (DHS), is a web-based system that determines the preliminary eligibility of visitors to travel a carrier to the United States and applies to all eligible citizens or nationals traveling under the VWP. Approval is usually granted online within seconds. Travelers without an approved ESTA are advised, however, that they may be denied boarding, experience delayed processing, or be denied admission at a U.S. port of entry.
ESTA applications must be made prior to travel and are valid for two years. Application can be made online at https://esta.cbp.dhs.gov. Countries currently participating in the VWP are: Andorra, Australia, Austria, Belgium, Brunei, the Czech Republic, Denmark, Estonia, Finland, France, Germany, Hungary, Iceland, Ireland, Italy, Japan, the Republic of Korea, Latvia, Liechtenstein, Lithuania, Luxembourg, Malta, Monaco, the Netherlands, New Zealand, Norway, Portugal, San Marino, Singapore, Slovakia, Slovenia, Spain, Sweden, Switzerland, and the United Kingdom.